CRUDE
Crude Oil went past the 2017 high. Here I am considering the alternate scenarios developing. We are in either wave 3 or c up. the third wave will end in 5 waves and in that sense we are only in wave iii so Oil prices have way to go. One minor correction in between the next achievable level is near 62. 62 is the 2015 high and the trendline of the two tops seen since 2016. Near 62 we can consider which is the better case, but the Oil rally that has started now has a few more legs before it is done in either case.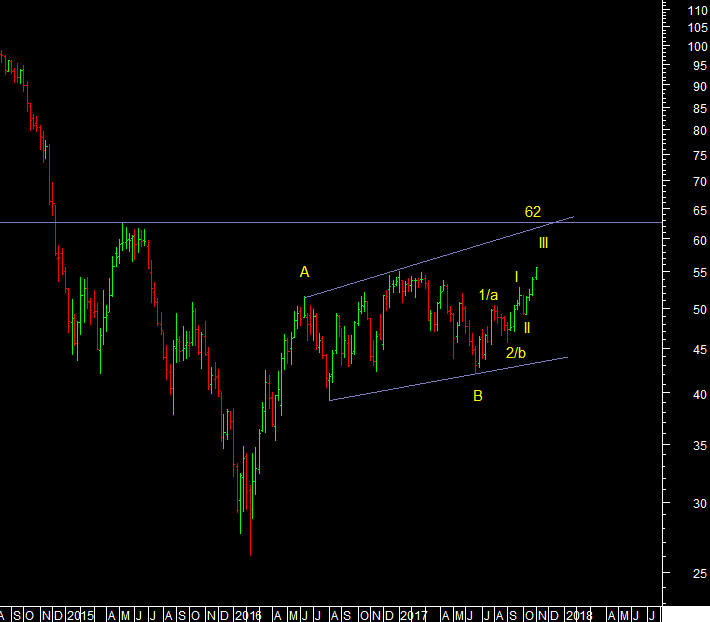 Aluminium MCX
Aluminium prices closed above the 20dma taking support at 139.23 and unless we close above it the immediate bearish case should be held back. The dialy momentum has crossed back to the buy side so watch if it goes past the 142.70 high we might get a new rally. The parallel channel would then have resistance at 147.50 next.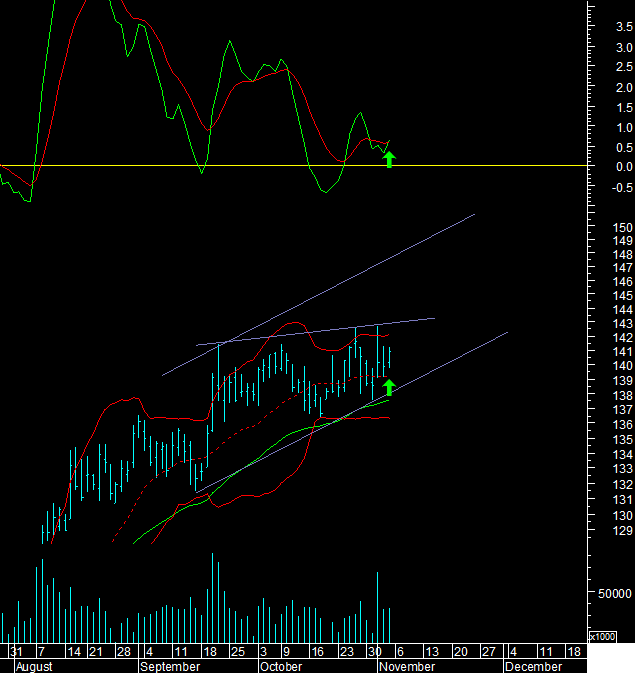 LEAD MCX
As discussed Lead prices closed up above the 20dma which was at 141.415, and pushed the daily momentum into buy mode. 167.50 is the Upper bollinger band and next resistance.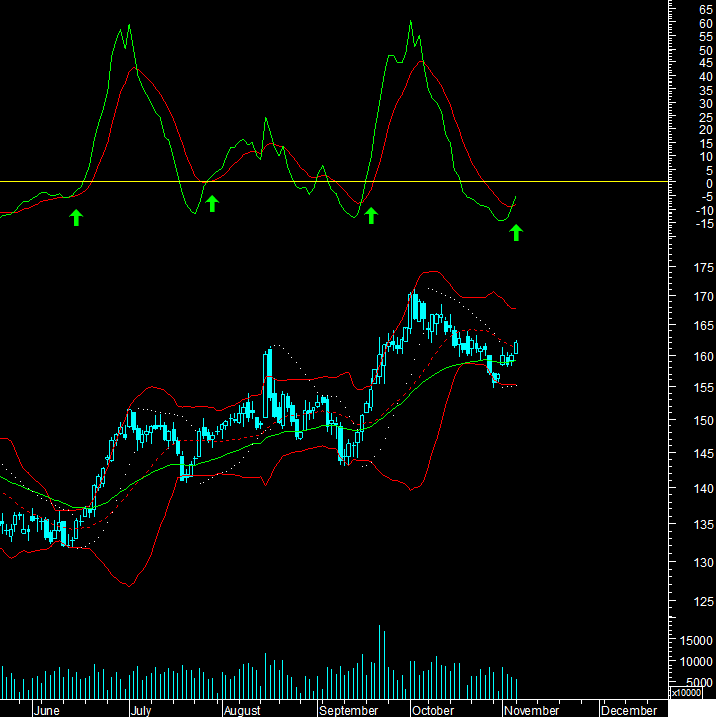 NICKEL MCX
Nickel broke past the 785 mark to new highs causing extentions in what I thought to be a near double top. Implications are here. III=I points to 873, however the big jump in one day is wave i of III and iii=i points all the way to 910.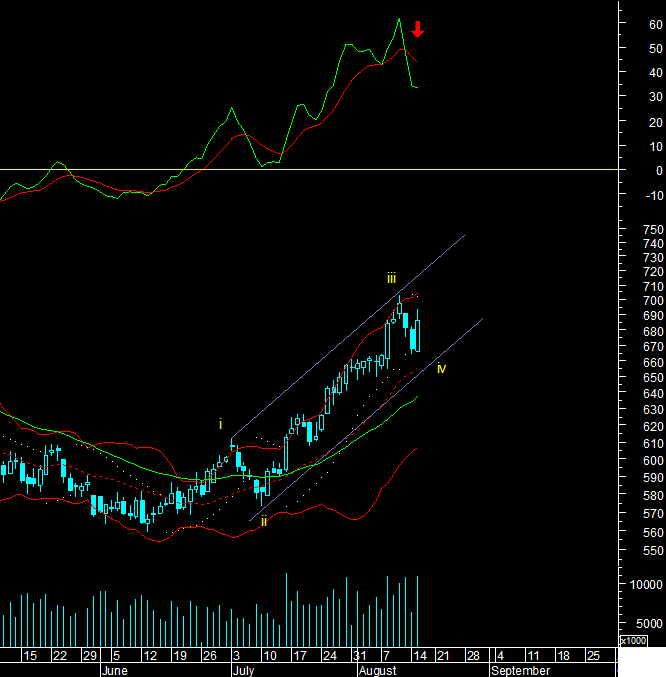 Gold
Gold spot closed just below the 20dma at 1281.50 and did not break the 1284.10 swing high. Both keep in tact the wave count that wave C down is unfolding. Below 1263 we head toward the 1200 mark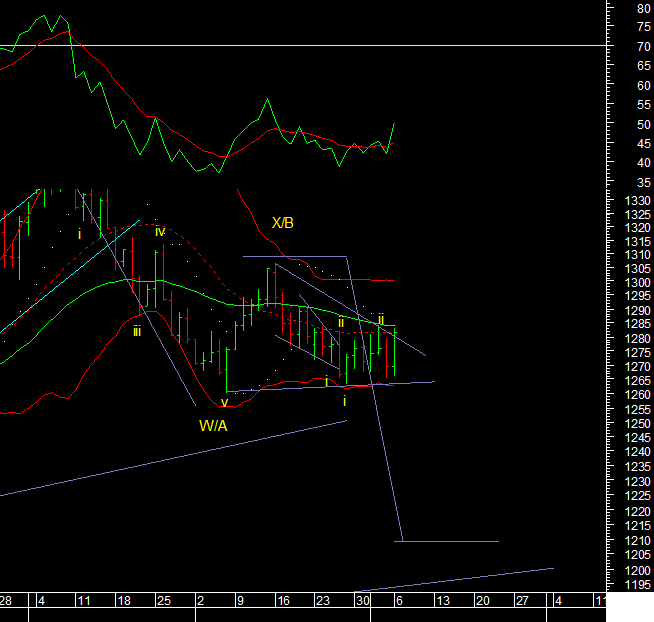 SILVER MCX
Silver had a bump up yesterday, that should be wave ii of c. Wave c will develop into a 5 wave decline and wave iii of c down should be next 61.8% retracement is at 39928, from where wave iii down can start. iii should head towards 37500, as it may extend up to 1.618 times wave i.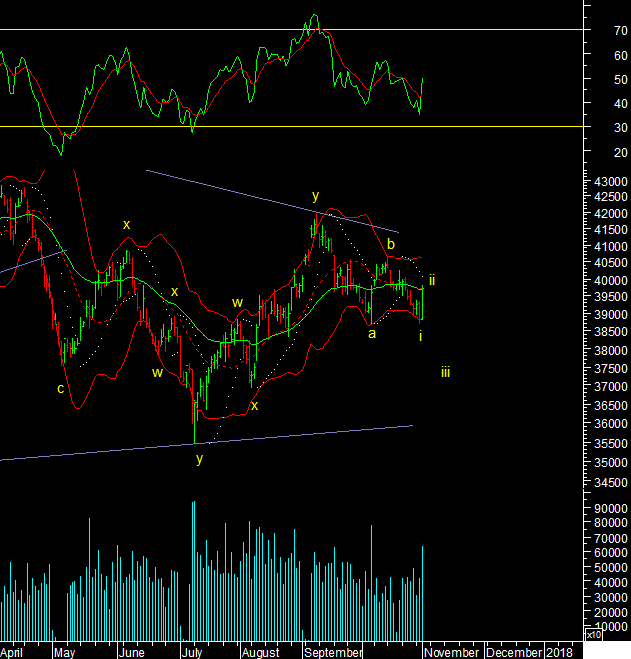 SUGAR NCDEX
Covering Sugar Ncdex after long [Rs./Quintal] and using a line chart. Why? the contract has suddenly become very illiquid. It has also not declined along with Global sugar prices. It did rise with them and traded a lot last year. Am not sure what has happened but now on many days there are no trades and the price is erratic. One day it was up from 3300 to 3700 and now on 30/10 it is back at 3310 on a single trade and has not traded for days. C=A is achieved [near the wave 4 support] but hard to say if this erratic structure is complete. So we need to watch prices in light of global prices for a while and see what happens.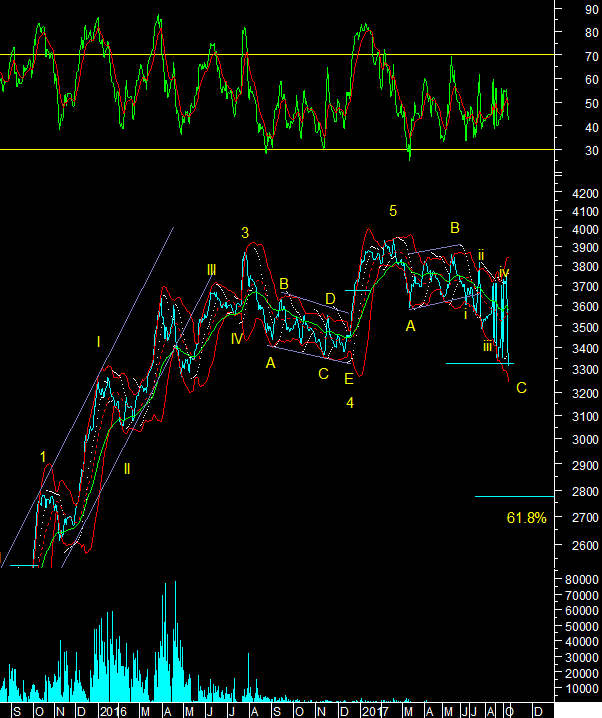 RAPESEED
Rapeseed is rising and might continue to. Taking support at the longer term channel support prices are rising. Retracement levels are 4100, 4300 and 4500. 3830 is the 40dema and the immediate support holding which we are heading to higher retracements.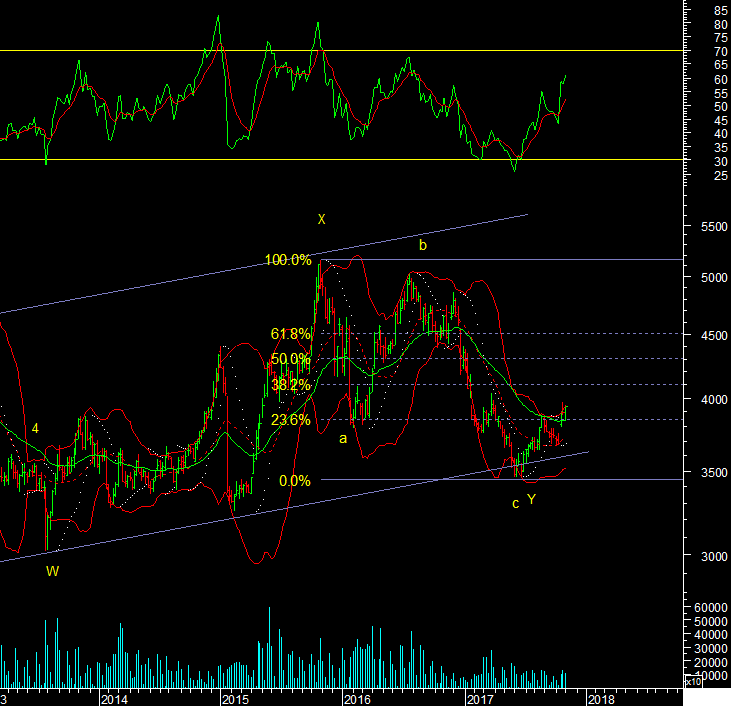 SOYBEAN QUITAL
Soy Bean Ncdex rallied in wave 1 and wave 2 maybe complete in A-B-C. If the recent low of 2754 holds we could be in wave 3 up and that would initially retrace 61.8% at 3080, and if that is surpassed then 3=1 could be the bigger picture near 3424. We have closed above the 20dma at 2870