Dollar Index
Yesterday was an important day for the dollar as it gave up to break the 40day average and close below it. Last week i discussed why the Euro could bottom out and start its move toward 1.30, so has it? The rising euro is the clearest reason for a falling dollar. This week however I remained on watch for upside in the dollar because even as the dollar closed down last week, completing 3 waves up, wave c<a and so wave c was short.
So there is always risk of extension; that can never be ruled out. The dip in the dollar therefore can either be wave 3 down long term or an x wave within the larger counter trend move up. Supports are 93.41 at the 20wma and 92.45 at 61.8% of the rise so far. If wave 3 down starts right away then we are looking for 83.50 next. Sentiment for the dollar bulls was at 87% at the recent high but not extreme, also positions are more short than long. These were other reasons to wait. That said the bigger view is that the dollar is in a bear market so any move towards a declining trend should be taken seriously. Also weekly momentum is back above zero [see on chart] so the up cycle has done its minimum requirements.
Work with the presumption that the larger trend down has started till there is evidence otherwise. If the larger trend is down for the dollar why did commodities give up overnight? Maybe it was a knee jerk reaction or just time for a correction in all dollar assets.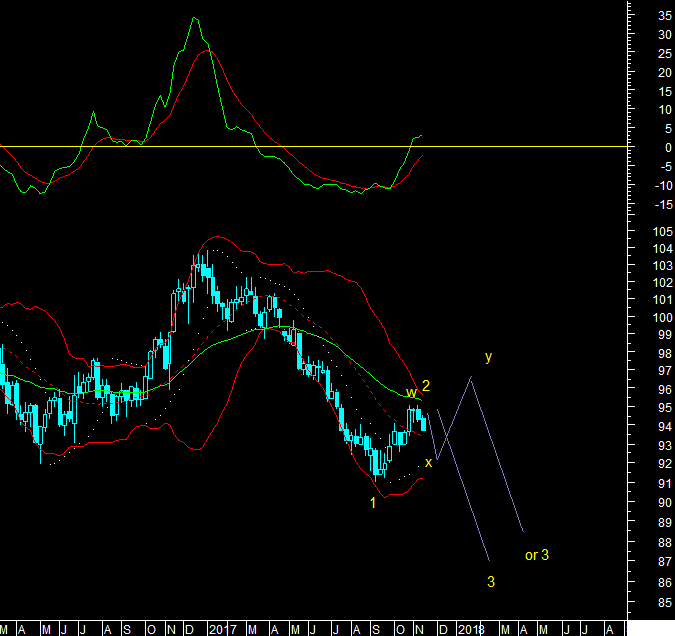 DOW
Dow hourly charts indicate a 5 wave decline from the 5th wave top. The fall broke the rising channel. A brief bounce in wave 2 is all that we should get before wave 3 down.